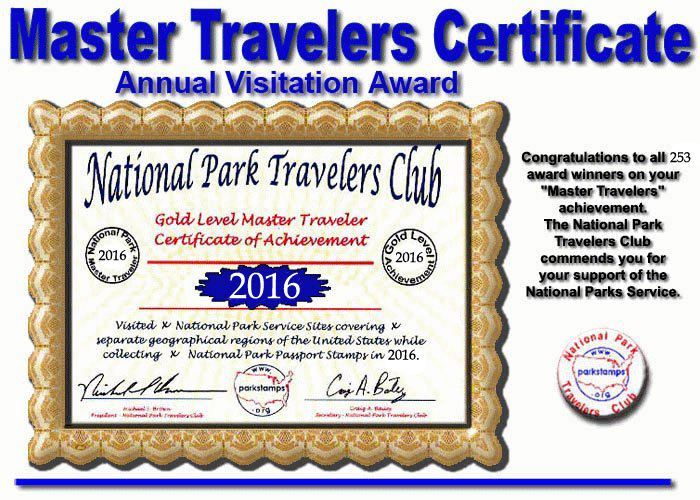 ---
| Members Name | Level | Stamps | Parks | Regions |
| --- | --- | --- | --- | --- |
| Dave Rebik | Gold | 2455 | 493 | 9 |
| Leland Warzala | Gold | 2123 | 449 | 9 |
| David Kroese | Gold | 1725 | 468 | 9 |
| Nancy Bandley | Gold | 1305 | 464 | 9 |
| Gary Pritchard | Gold | 1278 | 425 | 9 |
| Mike and Cheryl Carver | Gold | 1097 | 214 | 9 |
| Jack D Mount | Gold | 990 | 282 | 9 |
| Sarah Eaton | Gold | 914 | 230 | 9 |
| Jennifer Baxter | Gold | 691 | 162 | 9 |
| Ron and Deb Bigley | Gold | 667 | 197 | 9 |
| James Helm | Gold | 650 | 195 | 9 |
| Dave and Bonnie Hebben | Gold | 612 | 173 | 7 |
| Steven J Holtz | Gold | 609 | 163 | 9 |
| Pat Hierl | Gold | 578 | 175 | 9 |
| Bob Grossman and Patty Montone | Gold | 565 | 313 | 9 |
| Pat Mount | Gold | 565 | 237 | 9 |
| Norman Griffin | Gold | 551 | 216 | 9 |
| Tracy Greer | Gold | 543 | 140 | 7 |
| Debbie Roberts | Gold | 543 | 159 | 9 |
| Roberta Klisiewicz | Gold | 542 | 155 | 9 |
| Steve Phelps | Gold | 513 | 272 | 9 |
| Jim Farrell | Gold | 500 | 137 | 9 |
| Diane Fair | Gold | 492 | 149 | 9 |
| Kathleen McNinney | Gold | 462 | 123 | 8 |
| Bruce McPherson | Gold | 458 | 128 | 9 |
| Kathy Gaylord | Gold | 454 | 148 | 9 |
| Kathy and Tony Burris | Gold | 436 | 119 | 7 |
| Brian W Bailey | Gold | 435 | 102 | 6 |
| Michael Spellmon | Gold | 414 | 120 | 6 |
| Ray Ann Sullivan | Gold | 409 | 158 | 9 |
| Ken and Joan Wasenmiller | Gold | 401 | 200 | 9 |
| Frank and Anita Jacobs | Gold | 398 | 125 | 8 |
| AlSurveyor | Gold | 392 | 135 | 7 |
| Christopher Rubesch | Gold | 392 | 149 | 9 |
| Taylor N Chism | Gold | 387 | 124 | 8 |
| John and Sharon Aubuchon | Gold | 386 | 137 | 7 |
| Jonathan Katz | Gold | 378 | 190 | 8 |
| Joe Scheppe | Gold | 371 | 118 | 9 |
| Deborah Archer | Gold | 370 | 208 | 6 |
| Greg Showman | Gold | 364 | 108 | 8 |
| Allan Martin Rios MD | Gold | 364 | 107 | 6 |
| William and Merry Ann Smith | Gold | 360 | 170 | 8 |
| Riley Hays | Gold | 353 | 134 | 9 |
| Alan and Rachel | Gold | 352 | 99 | 6 |
| Bob and Betty Neyer | Gold | 343 | 113 | 6 |
| Susie and Kyle Kalmi | Gold | 341 | 86 | 7 |
| Curt Arledge | Gold | 337 | 117 | 7 |
| Karen Messa | Gold | 337 | 84 | 6 |
| Jim and Donna Bischoff | Gold | 336 | 92 | 7 |
| Elizabeth Beeby | Gold | 327 | 79 | 6 |
| Larry and Pat McCarty | Gold | 326 | 131 | 8 |
| Laura Hardman | Gold | 325 | 130 | 6 |
| Craig Bailey | Gold | 322 | 122 | 9 |
| Don and Bonnie Lang | Gold | 320 | 127 | 9 |
| Michael Jones | Gold | 312 | 81 | 7 |
| Steve N Truong | Gold | 307 | 90 | 7 |
| Neal S Raver | Gold | 304 | 110 | 9 |
| Lanie Yarbro | Gold | 293 | 122 | 6 |
| Dave and Cindy Starke | Gold | 291 | 63 | 6 |
| Stew and Carol Sadowsky | Gold | 290 | 109 | 7 |
| Amy Lyn and Dennis Miller | Gold | 288 | 128 | 9 |
| Michael Higgins and Melissa Van Houten | Gold | 276 | 96 | 7 |
| James Woodey | Gold | 265 | 104 | 6 |
| Amanda Rom | Gold | 256 | 68 | 6 |
| Brendan and Melinda O Donnell | Gold | 255 | 100 | 9 |
| Justin R Long | Gold | 249 | 82 | 6 |
| Zachary and Hillary Wheeler | Gold | 247 | 71 | 9 |
| Barbara E Boslego | Gold | 247 | 71 | 6 |
| Paul Imamoto | Gold | 242 | 74 | 9 |
| Bateman Blair | Gold | 237 | 117 | 7 |
| Chuck and Judy Gingrich | Gold | 236 | 83 | 8 |
| Robert Palmer | Gold | 235 | 94 | 9 |
| John D Giorgis | Gold | 233 | 67 | 6 |
| Erin Koster | Gold | 227 | 71 | 6 |
| Scott, Stacey, Sophie, and Sammy Stieglitz | Gold | 227 | 62 | 6 |
| Ted Olsen | Gold | 225 | 68 | 6 |
| Joachim and Nemhina | Gold | 224 | 72 | 7 |
| Monica and David Vickers | Gold | 216 | 77 | 7 |
| Todd and Carrie Kuhn | Gold | 213 | 71 | 8 |
| Joe Bergamini | Gold | 213 | 64 | 7 |
| Jeanine Brooks | Gold | 209 | 114 | 6 |
| Ray and Carol Caslow | Gold | 209 | 67 | 7 |
| Laurie S Reeves | Gold | 208 | 85 | 9 |
| Kelly Kinnish | Gold | 208 | 81 | 7 |
| Peter Winfrey | Gold | 205 | 63 | 6 |
| Don and Judi Lay | Gold | 204 | 80 | 6 |
| Donna Narsh and Paul Hairsine | Gold | 204 | 69 | 7 |
| Aex Matras | Gold | 203 | 81 | 9 |
| Michelle L Holshue | Gold | 202 | 71 | 7 |
| George Raney | Gold | 202 | 57 | 6 |
| Robert and Sherry Campbell | Gold | 200 | 96 | 9 |
| Lisa Dvorak | Gold | 194 | 60 | 7 |
| Deborah Baker | Gold | 189 | 60 | 6 |
| Katrinia Baker | Gold | 186 | 72 | 7 |
| Mike and Kristie Browning | Gold | 182 | 74 | 9 |
| Joyce and Art Paukune | Gold | 179 | 76 | 6 |
| Jerry Van Allen | Gold | 178 | 63 | 6 |
| Williams Collins | Gold | 178 | 73 | 6 |
| Lana Proemsey | Gold | 178 | 61 | 6 |
| Dave and Sue Lutz | Gold | 174 | 77 | 6 |
| Bruce and Letty Johnson | Gold | 174 | 72 | 7 |
| Rob and Alison Teitelbaum | Gold | 173 | 77 | 7 |
| Michela Nicole Ratto | Gold | 172 | 59 | 6 |
| Roland Spies | Gold | 172 | 69 | 7 |
| Kate M Eovino | Gold | 167 | 62 | 8 |
| Kimberly Lowry | Gold | 164 | 72 | 8 |
| Byron Grizzle | Gold | 163 | 64 | 7 |
| Dawn Marie Swailes | Gold | 161 | 50 | 6 |
| Glenn Fankhauser | Gold | 160 | 66 | 7 |
| The Heald Family | Gold | 159 | 54 | 6 |
| Henry Teitelbaum | Gold | 156 | 69 | 6 |
| George Lynch | Gold | 154 | 68 | 6 |
| Carolyn Jack | Gold | 154 | 51 | 7 |
| Steve Bailey | Gold | 149 | 146 | 9 |
| Lisa Tucker | Gold | 148 | 66 | 9 |
| Bill Herron | Gold | 148 | 51 | 6 |
| Eleanor Teitelbaum | Gold | 148 | 67 | 6 |
| Robert and Paula Bauerle | Gold | 148 | 55 | 6 |
| Preet Kamia Singh | Gold | 140 | 62 | 6 |
| John and Alice Tesmer | Gold | 138 | 55 | 6 |
| David William Gethings | Gold | 135 | 87 | 6 |
| Joseph C Becker lll | Gold | 133 | 67 | 7 |
| Courtenay Wood and Noel Jackson | Gold | 132 | 54 | 7 |
| Skip Waisner | Gold | 121 | 51 | 6 |
| Thomas Fusillo | Gold | 121 | 50 | 6 |
| Steve Beningo | Gold | 119 | 53 | 6 |
| Jim Uschock | Gold | 119 | 51 | 7 |
| J Scott Vega | Gold | 115 | 59 | 6 |
| Anna Graham | Gold | 111 | 55 | 6 |
| Matthew and Nicole Arient | Gold | 106 | 50 | 6 |
| Tom and Karen Osterhoudt | Gold | 100 | 100 | 9 |
| Jennifer Williams | Silver | 508 | 116 | 5 |
| Amy Horst | Silver | 493 | 116 | 5 |
| Marisa Reuber | Silver | 343 | 86 | 5 |
| A Durbin | Silver | 340 | 84 | 5 |
| Grant Scheppe | Silver | 301 | 96 | 5 |
| Crystal Vierhout | Silver | 282 | 112 | 5 |
| Paige Reuber | Silver | 269 | 76 | 5 |
| Marc Tomik | Silver | 261 | 103 | 5 |
| Lee Salawitch | Silver | 239 | 75 | 5 |
| William Schmidt | Silver | 228 | 68 | 5 |
| Chris Seidel | Silver | 209 | 47 | 5 |
| Tim Linebaugh | Silver | 193 | 78 | 5 |
| Eric and Angela Russell | Silver | 186 | 67 | 5 |
| Mike Phelps | Silver | 181 | 63 | 6 |
| Nicholas J. Hilosky | Silver | 179 | 58 | 5 |
| Theodore Tangen | Silver | 175 | 51 | 5 |
| Laura Connors | Silver | 150 | 45 | 5 |
| James Van Tassell | Silver | 147 | 51 | 5 |
| Grant McCreary | Silver | 144 | 67 | 5 |
| Kathy and Paul Wester | Silver | 141 | 43 | 5 |
| Stuart Ritter | Silver | 139 | 41 | 6 |
| Frank Smith | Silver | 135 | 48 | 8 |
| Mikal Pechota | Silver | 128 | 51 | 5 |
| Kj and Mik | Silver | 126 | 49 | 5 |
| Bill Donavan | Silver | 123 | 45 | 5 |
| Cameron Dean | Silver | 123 | 40 | 5 |
| Charles S Sulcer | Silver | 122 | 41 | 5 |
| Timothy E Darling | Silver | 121 | 40 | 5 |
| Scott Ramsay | Silver | 120 | 48 | 5 |
| Timothy Killam | Silver | 119 | 46 | 5 |
| David and Denise Albo | Silver | 118 | 45 | 5 |
| Juliet Baker-Rice | Silver | 112 | 39 | 5 |
| Jesse Bender | Silver | 111 | 50 | 5 |
| Linda Mak and Tom Smith | Silver | 107 | 40 | 5 |
| Rob Sanders | Silver | 104 | 41 | 6 |
| John R Keller | Silver | 103 | 43 | 5 |
| Jennifer E Moore | Silver | 100 | 37 | 5 |
| David Henderson | Silver | 100 | 39 | 5 |
| King Family | Silver | 100 | 41 | 5 |
| Scott and Suzanne Danskin | Silver | 95 | 40 | 7 |
| Patricia and Norman Bauer | Bronze | 299 | 58 | 4 |
| Brian Anderson | Bronze | 184 | 62 | 4 |
| Margaret Milligan | Bronze | 181 | 50 | 4 |
| Matt and Melinda Miller | Bronze | 180 | 55 | 4 |
| Connie Corrigan | Bronze | 173 | 48 | 4 |
| Jerry Dahm | Bronze | 173 | 48 | 4 |
| Randy Treadway | Bronze | 171 | 58 | 4 |
| Duane Miller | Bronze | 169 | 55 | 4 |
| Walter Treu | Bronze | 166 | 45 | 4 |
| Jeanine Ging | Bronze | 164 | 50 | 4 |
| Meadow Ging-Wargo | Bronze | 164 | 50 | 4 |
| Theo Wing-Wargo | Bronze | 164 | 50 | 4 |
| Mike Brown | Bronze | 159 | 42 | 4 |
| Irene Sheridan | Bronze | 154 | 40 | 4 |
| Daniel Hanson | Bronze | 141 | 45 | 4 |
| Shellie Berg | Bronze | 140 | 45 | 4 |
| John and Mary Kay Smith | Bronze | 132 | 33 | 4 |
| Carisha Hipsher | Bronze | 127 | 32 | 5 |
| Suzanne Clodfelter | Bronze | 125 | 41 | 4 |
| Paul and Carol Girvan | Bronze | 121 | 29 | 4 |
| Patricia Lynch | Bronze | 116 | 35 | 4 |
| Laura Wickman and Megan Reichard | Bronze | 108 | 34 | 4 |
| Sandra Ramos | Bronze | 106 | 42 | 4 |
| Libby Shipp | Bronze | 103 | 25 | 5 |
| Muthu Krishnan | Bronze | 101 | 33 | 6 |
| Cheryl Blankenship | Bronze | 89 | 32 | 4 |
| Laura Moore | Bronze | 89 | 34 | 5 |
| Chris Thiemann | Bronze | 87 | 32 | 4 |
| Phil and Nancy Watson | Bronze | 85 | 28 | 5 |
| Peachymegs | Bronze | 84 | 30 | 7 |
| Marcus Petree | Bronze | 84 | 27 | 4 |
| Alex and Emily Wilson | Bronze | 78 | 34 | 5 |
| Julie and Bob Mundorf | Bronze | 76 | 27 | 5 |
| Brandon and Emily Stover | Bronze | 74 | 33 | 4 |
| Robert Preston Jackson, JR | Bronze | 73 | 25 | 4 |
| Craig Wingerson | Bronze | 73 | 30 | 5 |
| Jennafer N Allen | Bronze | 72 | 27 | 4 |
| Greg Jeanes | Bronze | 69 | 27 | 4 |
| Daniel Sheppard | Bronze | 52 | 26 | 5 |
| Tammy Keller | Special | 234 | 77 | 3 |
| Kelly Eaton | Special | 191 | 50 | 3 |
| Rebecca Ann Betit | Special | 162 | 40 | 3 |
| Don and Linda Garnett | Special | 158 | 52 | 3 |
| Gary and Karen Weyer | Special | 144 | 43 | 3 |
| Nick Zapotoski | Special | 140 | 50 | 3 |
| Neal Hendricks | Special | 138 | 23 | 4 |
| John Paul Giorgis | Special | 129 | 34 | 3 |
| Madeline C Giorgis | Special | 129 | 34 | 3 |
| Deborah and Carly Starke | Special | 127 | 37 | 3 |
| Sara K Giorgis | Special | 123 | 33 | 3 |
| Thaddeus J Giorgis | Special | 117 | 33 | 3 |
| Allen and Sandra McConnell | Special | 111 | 36 | 3 |
| Anne and Rich Saiki | Special | 110 | 40 | 3 |
| Erin Hayden | Special | 89 | 25 | 2 |
| Jeff, Daina, Ari and Greg Rosen | Special | 87 | 20 | 4 |
| Gregg Pivec | Special | 87 | 34 | 3 |
| Deanna L Hensley | Special | 87 | 23 | 2 |
| Bobby and Amber Hobson | Special | 80 | 25 | 2 |
| William Barnard | Special | 78 | 18 | 2 |
| Tony and Missy Smith | Special | 69 | 20 | 2 |
| Greg Fenwick | Special | 66 | 22 | 2 |
| Jim Dockweiler and April Obern | Special | 64 | 17 | 3 |
| Anne and Fritz Porter | Special | 63 | 21 | 2 |
| Elliott Day | Special | 59 | 24 | 3 |
| Caitlin M Cusack | Special | 52 | 19 | 4 |
| Jennilee Cookman | Special | 50 | 21 | 3 |
| Greg and Amy Sippl | Special | 50 | 21 | 5 |
| David Goetz | Special | 45 | 17 | 2 |
| Matthew Rohner | Special | 42 | 18 | 2 |
| Charles A Perko | Special | 42 | 19 | 4 |
| Frank Holleman | Special | 42 | 20 | 5 |
| Douglas A Yochum | Special | 42 | 24 | 4 |
| Dan and Karen Fales | Special | 40 | 24 | 3 |
| Erin Maynard | Special | 37 | 12 | 2 |
| Humberto Saenz | Special | 36 | 12 | 3 |
| Jennifer Lynn Usnik Rich | Special | 33 | 12 | 3 |
| Paul Wettin | Special | 30 | 15 | 2 |
| Laura and Mike Hinton | Special | 30 | 12 | 4 |
| Nicole Lefor | Special | 29 | 10 | 2 |
| Tracy Evans and Stacy McMillen | Special | 28 | 10 | 3 |
| Maria and Jason Doktor | Special | 27 | 10 | 2 |
| Akos Varga-Szemes | Special | 24 | 18 | 3 |

Dave Rebik, Leland Warzala, David Kroese, Nancy Bandley, Gary Pritchard, Mike and Cheryl Carver, Jack D Mount, Sarah Eaton, Jennifer Baxter, Ron and Deb Bigley, James Helm, Steven J Holtz, Pat Hierl, Bob Grossman and Patty Montone, Pat Mount, Norman Griffin, Debbie Roberts, Roberta Klisiewicz, Steve Phelps, Jim Farrell, Diane Fair, Bruce McPherson, Kathy Gaylord, Ray Ann Sullivan, Ken and Joan Wasenmiller, Christopher Rubesch, Joe Scheppe, Riley Hays, Craig Bailey, Don and Bonnie Lang, Neal S Raver, Amy Lyn and Dennis Miller, Brendan and Melinda ODonnell, Zachary and Hillary Wheeler, Paul Imamoto, Robert Palmer, Laurie S Reeves, Aex Matras, Robert and Sherry Campbell, Mike and Kristie Browning, Steve Bailey, Lisa Tucker, Pamela Wilt, and Tom and Karen Osterhoudt
Some interesting 2016 facts.
There were 54 people who earned a Clean Sweep award in 2016 - by far, the most ever in one year!
Dave Rebik collected the most stamps of anyone ever during one calendar year - 2455!
When counting trails, heritage areas, affiliated areas, etc, five Members visited more parks than there are Units during 2016.
Nancy Bandley visited every official NPS Unit during 2016!